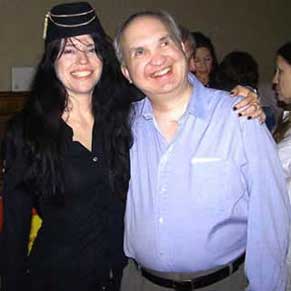 Greg Drust with former Bravo Combo bass guitarist Ann Marie
In 1974 Greg got his own weekly radio program on KCSB. Since that time, Greg has broadcast at least weekly, usually multiple times, on various stations.
In 1978, Greg started his own polka show, which has been heard on KKIO, KBLS, KCSB, Santa Barbara, CA; KAYK, Pueblo, CO; WTKM, Hartford, WI; and over the Internet at 24/7Polkaheaven.com
Greg Drust has become a reference source for polka music. He was prominently featured in the award winning film, "It's Happiness", a documentary about polka music and dancing in Wisconsin. He appears several times in "The Cult of Walt", a documentary about Walter Ostanek- Canada's Polka King. He even was a consultant for the film, "In Heaven There Is No Beer."
Despite living in California for over 20 years, the "polka bug" kept gnawing at him. Greg first attended Tony Petkovesek's Thanksgiving Polka Festival in Cleveland, Ohio, in 1987. This initial polka festival has led to a string of polka tours, festivals, and special events which has not yet stopped. With two trips to Europe, one Caribbean polka cruise, and six trips to Texas polka festivals, Greg has been seen whooping it up throughout Wisconsin and the United States supporting live polka action from all ethnic backgrounds.