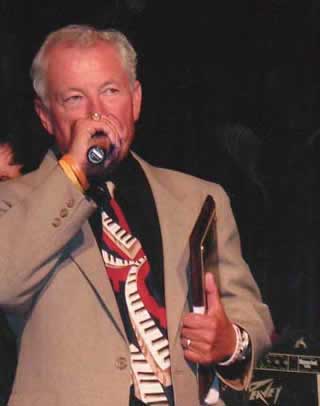 Polka Parade Duties
Retired DJ from Polka Parade and other shows
Jerry Halkoski was born and raised in Central Wisconsin. As long he could remember his parents always attended polka dances with Jerry in tow. As a youngster, Jerry was taught how to polka hop and waltz before starting school. Ethnic music was in Jerry's family from the beginning. His paternal grandfather, from Trzemeszno, Poland, played the violin, while his Swiss maternal grandmother played the piano.
Until Jerry was about 12, his interest consisted mainly of the Dutchman or Czech style of polkas. Then, like so many other places around the country, the Frankie Yankovic explosion occurred. At the same time the accordion craze hit the Midwest and by 1953 Jerry was playing the accordion for parties, picnics and family reunions.
In 1955, Jerry formed a five-piece orchestra known as Jerry's Melody Notes. With Dutchmen and Slovenian styles as their base, this group also tried very hard to emulate the music of Eddie Zima, Steve Adamczyck, and of course Lil Wally.
In 1960, while attending UW-Stevens Point, Jerry met Norm Dombrowski and both shared the dream of forming a "good" Chicago style polka band in Central Wisconsin. The "Happy Notes" band made its debut in May of 1960 and is still in existence today although Jerry left the band in 1962 to pursue a career in teaching.