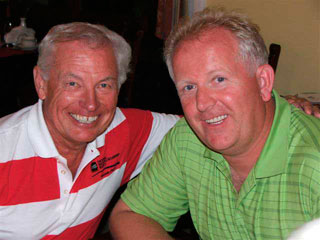 Jerry Halkoski with Canada's Polka Ambassador John Gora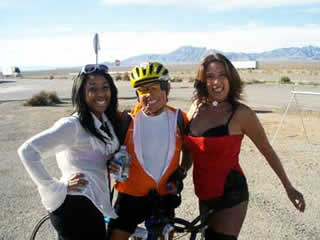 Jerry Halkoski participating in a MS Bike Marathon in Las Vegas
After brief teaching stints in Price and Manitowoc counties, Jerry settled in Oconomowoc, Wisconsin. From 1962-1974, Jerry took time out to raise a family and did not perform professionally.
In 1974, Jerry began producing "Polonia Polka Hits" each Saturday on WTKM, a show that lasted for 29 years!
In 1975, by chance, Jerry happened to hear the Julida Boys in Oconomowoc. He asked if could sit in with them. Within a few months, and with their accordionist moving, they asked Jerry to play with the band on a regular basis. What started out as a six-month commitment morphed into a 34-year love affair.
In 1983, in addition to continuing his "Polonia Polka Hits" show, Jerry began to produce the Pod Nogi segment of Blue Chip Polkas on WYMS, the Milwaukee Public Schools Radio. Jim Ebner, had started Blue Chip Polkas and Polka Parade a year earlier.
Jerry is also highly civic-minded. Jerry selflessly devotes his time to raise funds for the National Multiple Sclerosis Society and the American Diabetes Association. If that is not enough, Jerry is highly involved with bicycling, marathons, and cross-country skiing. Jerry even qualified twice to represent the US. Decathlon team in Europe in the senior division.
After many years on the radio, Jerry retired from all on-air activities including polka parade in the summer of 2012.