Continued...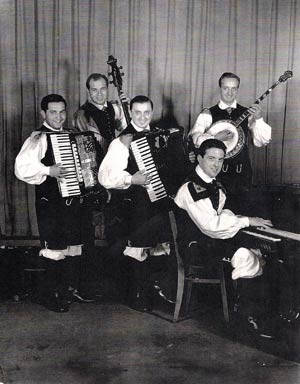 Frankie Yankovic and his Yanks with Tops Cardone in the early 1950's
Now add the accordion to this equation of circumstance. The "stomach Steinway" paved the road to Polka Parade too. Jim had been lucky enough to get one in 1942 when his parents purchased a small, used one for $75. Favorite artists of Jim's included Frank Yankovic, Lawrence Welk, Dick Cantino and Louie Bashell. When Elmer Marks, longtime operator of the Nightingale Ballroom near Menomonee Falls, invited Jim to join his polka band in 1950, it was the payoff for years of practice, tinkering, and playing in company with celebrities on 78 rpm records.
The dormant seeds for Polka Parade were in place. They sprouted when one of the radio station's ethnic programs suddenly cancelled their Saturday noon programs. The time slot had to be filled immediately! The thought occurred to Jim Ebner that a Polka Show could substitute for a week or two, until a permanent new ethnic show could be found. On Saturday, September 1, 1982, Jim hustled together all thirteen of his polka albums, and opened the fill-in show with Don Gralak's Beer Barrel polka. When the one hour show ended, Jim figured that, at best, he would do one more the following weekend. WRONG!!!
Apparently, polka fans heard the show and quickly spread the word. Noyes Lane of the Wisconsin Polka Boosters called and offered the full support of his active and enthusiastic organization; other Polka fans did too, some sending in albums for the show, others, many others, sending cards and letters of support.