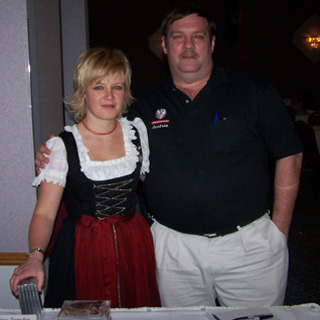 Bob Ziegenbein with Button Box extraodinaire Andrea Lerpscher from Bavaria, Germany.
Continued...
In 1989, by this time a First Class Petty Officer (E-6), Bob decided to re-enlist. He was offered the opportunity to become an instructor at Fleet Training Center, San Diego to teach at the Advanced Steam Propulsion Maintenance technical school. In 1993, Bob returned to civilian life.
While a member of the United States Navy, Bob earned:
Two Good Conduct Medals
Two Sea Service Awards
Two Navy Battle Efficiency Awards
An Armed Forces Expeditionary Medal
Naval Enlisted Surface Warfare Specialist designation.
Bob's first job after the Navy was in Waupun, WI. It was there one day while scanning the radio dial that Bob heard polkas on the airwaves. The station that he heard the polkas on was WTKM and soon Bob was listening to polkas all the time again.
In 1996, Bob struck a friendship with Tim Hauboldt, then a DJ at WTKM, and soon Bob was helping Tim produce his weekly Sunday evening polka program.
In May 2000, Bob & Tim made an agreement that Bob would replace Tim once per month at WTKM. This agreement would last until Bob decided to leave WTKM January 1, 2006, when Bob stopped doing polka shows at WTKM.
In September 2001, Bob heard about a new Internet polka radio show coming online. This was 24/7 Polkaheaven. Bob quickly pounced on the opportunity to have a weekly polka program and he became a charter of 24/7 Polkaheaven with his "Big Bang Polka Show"